Let's get this out of the way: the whole title of this article and the special graphic would probably make a whole lot more sense if this wasn't my first column on JesusWired. See, my monthly column is going to be called "Taylor's Monthly Roundup." So now, when I do my top 10 Christian albums of 2014, I've called it "Taylor's 2014 Roundup." Do you get it? Like, the special graphic looks like I hastily changed an existing thing. That's funny, right?
RIGHT??
Anyway, there was a lot of great music in 2014, and the problem with choosing your ten favorite albums is that you have to not choose dozens of others. That's why I'll be doing a new feature, highlighting a few of my favorite albums every month. The first installment will go up on Monday, and I hope you'll read it and leave me zillions of comments, because I think that's an achievable goal.
But this article isn't about my rambling lead-up. It's about the music. Here are my favorite albums of 2014.
#10: The Devious Means – Other Animals

Made up of a bunch of Biola grads and fronted by a pastor, The Devious Means is a raw, old-fashioned blues rock band. There are no frills and no heavy post-production to smooth things out. I'm a fan of any band that can make limited instrumentation sound huge, and The Devious Means pulls that off masterfully on Other Animals. The guitar tones are crunchy and distorted, the drums are harsh and driving, and the keys and bass beef things up nicely. Their lyrics range from typical blues love-gone-wrong anthems to refrains you'd expect in an old-time gospel song. Highly recommended if you like garage rock bands like The White Stripes or the Black Keys.
Buy Other Animals on iTunes here
Connect with The Devious Means
Facebook | Twitter | Website
#9: Kye Kye – Fantasize

This is just a beautiful album from start to finish. The brooding synths and atmospheric vocals are great, but to me the thing that really makes the whole album is the production on the drums. In places they are absolutely drenched in reverb, but not in a way that they lose their punch. A lot of synth pop has really wimpy drum sounds, and that ends up ruining it for me, but Kye Kye turned the percussion into a strength on their sophomore album.
Buy Fantasize on iTunes here
Connect with Kye Kye
Facebook | Twitter | Website
#8: Levi the Poet – Correspondence (a fiction)
I'm fairly picky when it comes to spoken word poetry. It's not a go-to genre for me, so that means if I'm going to enjoy a project in the genre, the poetry has to be especially well done and the music has to be especially moving. Levi Macallister hits both of these marks and then some on his latest Levi the Poet project. Correspondence (a fiction) is a concept album, telling the love story of a whaler's daughter and an orphan boy through the letters they write to each other. Levi uses the backdrop of this story to talk about family dynamics, growing up, and religious philosophy. I'm not an expert on poetry, but to me, what he does stylistically is phenomenal. Levi uses wordplay, interior rhymes, and alliteration to perfection as he tells his story. His voice drips with passion through the whole thing, and the combination of piano, brass, and sound effects only add to the emotional punch. This is not an album to put on in the background. This is an album to be experienced sitting down alone with the lyrics in front of you.
Buy Correspondence (a fiction) on iTunes here
Connect with Levi the Poet
Facebook | Twitter | Website
#7: Artifex Pereo – Time In Place
This is the only album in this list that I didn't fall in love with immediately. My first impression was that it was noisy, chaotic, and just another fast and loud rock album. But for some reason, I kept on coming back, and I kept on coming back…and now it's grown on me to the point that it's my go-to pump-up album. The drums are absolutely frantic in Time and Place, but they work well with every arrangement. The entire album feels like an exercise in building and releasing tension with its sudden shifts in dynamic and rhythmic feel. I've seen complaints that the album is a little pessimistic lyrically, but I have a soft spot for Christian artists who are willing to write about pain without wrapping things up in a nice, pretty bow.
Buy Time in Place on iTunes here
Connect with Artifex Pereo
Facebook | Twitter
#6: John Mark McMillan – Borderland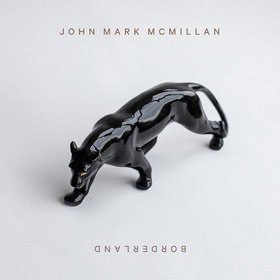 John Mark McMillan has always been an artist that I appreciated, but didn't necessarily enjoy. I loved the way he wrote and the way he never tried to sound like every other worship artist out there, but his stuff was always just a little too raw for me. Yes, over-produced music is a problem in the industry, but a little cleanup here and there never hurt anyone. With Borderland, McMillan seems to have found that balance. His voice is deep and edgy, and the instruments are heavy and dark. The music incorporates some electronic elements here and there, especially in the drum sounds, and his lyrics are just as thoughtful as ever. The best I can do to describe the album is to say Interpol and The National got together to make worship music, but even that isn't quite right. Love At The End is a good indicator of the overall sound of the album, and it just might be my favorite song this year.
Buy Borderland on iTunes here
Connect with John Mark McMillan
Facebook | Twitter | Website
#5: White Lighter – White Lighter
A few years ago, fans of the underground Christian rock scene were treated to the supergroup Neon Horse. Featuring members of Stavesacre, Starflyer 59, and Project 86, they put out two albums and then disappeared. Now, almost the exact same lineup has resurfaced with a different name: White Lighter. Stavesacre's Mark Salomon is back on vocals, and Project 86's Steve Dail returns on bass. The "big" change here is that Starflyer 59's Jason Martin has changed roles from guitarist to producer. Other members from Starflyer 59 – as well as guys from Pedro the Lion and The Prayer Chain – have rotated in, but the sound remains very similar to what Neon Horse did when they were active. Even though Jason Martin has left his post at guitar, his influence as a producer is unmistakable. The instrumentation is very similar to Starflyer 59's masterpiece Old, which is a definite positive in my book. Salomon shines as a songwriter as usual, dealing with faith and doubt in his usual raw, poetic honesty. Omens is definitely a highlight track, where he explores the line between wishful thinking and true faith. This album has grown on me with every listen. Highly recommended.
Buy White Lighter on iTunes here
Connect with White Lighter
Facebook
#4: Copeland – Ixora
It's been five years since Copeland officially broke up, which was a shame, because the breakup came just a year after dropping the best album of their career thus far in You Are My Sunshine. They'd put out a few other solid projects before then, but their 2008 release had the sound of a band who'd hit its stride and was ready to continue building on success. It was hard to watch them go after that, but now that they're back with Ixora, they haven't missed a beat. Aaron Marsh's falsetto vocals are just as haunting as ever, and the piano and synth-based instrumentation fit his tone perfectly.
Buy Ixora on iTunes here
Connect with Copeland
Facebook | Twitter | Website
#3: Colony House – When I Was Younger

Honestly, these next three albums could be 1a, 1b, and 1c. They're that close in my mind.
For the record, Colony House doesn't see themselves as a Christian band, but their faith certainly shines through in their lyrics. They write songs about life, love, and heartache, but there's an underlying theme of hope and purpose in everything. Interestingly enough, two of the three guys in Colony House are sons of Stephen Curtis Chapman. This isn't their daddy's music, though. Their debut album is a fantastic collection of indie rock and pop gems in the vein of artists like The Shins. It's fourteen songs long, ranging from the bluesy 2:20, to the wistful Waiting For My Time To Come, to the epic Glorious. This album is so much better than a debut has any business being.
Buy When I Was Younger on iTunes here
Connect with Colony House
Facebook | Twitter | Website
#2: Neulore – Animal Evolve

After releasing a solid EP exploring the relational difficulties Adam and Eve might have faced after experiencing the Fall together, Neulore returns with a full-length EP and a much fuller sound. Where Apples & Eve was a straight-up folk album with little beyond guitars, strings, and percussion for instrumentation, Animal Evolve adds in synths, electric guitars, and more to give the project a bigger sound. Lead singer Adam Agin gives a fantastic vocal performance, aided by some great lyrics exploring the human tension between a desire for righteousness and a nature bent toward sin.
Buy Animal Evolve on iTunes here
Connect with Neulore
Facebook | Twitter | Website
#1: Brooke Fraser – Brutal Romantic
This is the same Brooke Fraser who wrote and performed the worship classic "Hosanna," but you wouldn't know it listening to this new album. The dark melodies and synth-heavy instrumentation on Brutal Romantic have drawn comparisons to Lorde, but that's only half the story. While Fraser's new sound does pair electronic elements with a very human, very powerful voice, Fraser's arrangements aren't nearly as sparse. Instead, she opts for the lush soundscapes of artists like Imogen Heap. Lyrically, she's not writing straightforward worship songs, instead opting for observations of real life from a perspective of faith. The best example is the unexpectedly profound "Psychosocial," a song about social media, written from the perspective of a fan who expects an artist to be exactly like the filtered, social media version of herself: "I love your projection, but I don't love you."
https://www.youtube.com/watch?v=uQ4_zItAGe0
Buy Brutal Romantic on iTunes here
Connect with Brooke Fraser
Facebook | Twitter | Website
And that makes ten. There were several that I absolutely hated to leave out, but that's the way it goes sometimes. What were your favorites last year? Let me know in the comment section below! Be sure to check back on Monday for my "Monthly(!) Roundup" of January's musical offerings!
"Get Plugged In!" To JesusWired:
Facebook | Twitter | Youtube | Email | Pinterest | Instagram | RSS