Today, December 4th, could mark a crucial day in the story of Pastor Saeed as the nation, and world, speaks out about Saeed's situation as one united voice and hopefully sets the wheels in motion for Pastor Saeed to be freed and re-united with his family. Please head to the facebook event HERE to find out how YOU can add YOUR voice to this campaign. For more information on the story of Pastor Saeed please read below (a complete copy of our post from September 26th) and watch the incredibly powerful and moving music video for 7eventh Time Down's single "Just Say Jesus" which features an emotional message from Saeed's family. Please share this article and, more importantly, this campaign around as much as possible today by inviting all of your friends on all of your social medias to take part and let's come together as one united voice and let's #FREESAEED !!
A new music video from Kentucky-based 7eventh Time Down features an emotional message from the family of Saeed Abedini, an American pastor, father and husband currently imprisoned in Iran because of sharing his Christian faith. The video for "Just Say Jesus" – the title track and latest single from the band's sophomore project which released earlier this month via BEC Recordings – is in support of the Be Heard Project and the American Center for Law & Justice (ACLJ) in an attempt to free Pastor Saeed from one of Iran's most brutal prisons. The video was directed by Kevin Kookogey for First Company Management.
"I pray that this video can be a loud voice in the conversation God is using to soften the heart of the Iranian government to release Saeed back to his family," said Mikey Howard, lead singer of 7eventh Time Down, "We can not be silent."
Today, prayer vigils around the world are taking place, including events planned in Brazil, Germany, Kenya, Portugal, Puerto Rico, Russia, Uganda and in over 80 cities in the U.S. 7eventh Time Down encourages fans to watch the video (below) for "Just Say Jesus," learn about Saeed's story and pray for his immediate release back to his family and home in America.
Almost one year ago to date, Pastor Saeed traveled to Iran in order to obtain approval from the Iranian government for a non-sectarian orphanage.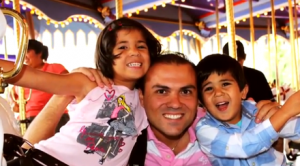 Two days before he was to return to America, Pastor Saeed was arrested and immediately put under house arrest for his faith and association with other believers. It was shortly thereafter that Pastor Saeed would be sentenced to serve eight years in Evin Prison, an institution known for its ruthless and inhumane treatment of its inmates.
Spearheaded by Saeed's family and with the help of the Be Heard Project and the ACLJ, an international petition has commenced and hundreds of thousands of signatures have been obtained to demand the release of this innocent man. 7eventh Time Down sought to bring attention and awareness to Saeed's story via their music video for "Just Say Jesus," which features national news footage detailing his imprisonment and images of him and his family interspersed during a live performance of the song.
Most recently, Saeed's wife – Naghmeh Abedini – personally delivered a letter pleading for her husband's release to Iranian President Rouhani after their chance meeting in New York. Among her letter are over 90,000 others that have been sent to Iran's new president on behalf of Pastor Saeed.
For more information or to attend a vigil near you, please visit www.SaveSaeed.org. If you're lead to sign the petition and help bring Pastor Saeed home, please visit www.BeHeardProject.com.
ABOUT 7EVENTH TIME DOWN:
The Kentucky-based foursome has already garnered an enthusiastic army after their 2011 debut, Alive in You, on BEC Recordings. 7eventh Time Down is composed of Mikey Howard (vocals), Ciff Williams (bass), Eric Van Zant (guitar) and Austin Miller (drums). For 7eventh Time Down, every song is an opportunity for ministry. The band has toured with a long list of impressive artists, including Newsboys, for King & Country, KJ-52, Manafest, Fireflight and Stellar Kart, among others, and was recently a featured artist on Air 1's popular "Club Awesome Tour." Logging nearly 100 shows a year, the band members are true road warriors, carrying full production for their live shows since their earliest days together, handling everything from sound and lighting to stage set-up themselves.
In an effort to expand their ministry beyond their music, the band partners with CURE International, a non-profit that operates hospitals and programs in 27 countries worldwide where patients receive surgical treatment and have the opportunity to hear the Gospel. During the "Club Awesome Tour" alone, more than 38 surgeries were funded.
CONNECT WITH 7EVENTH TIME DOWN
Facebook | Twitter | Instagram | Website
[adkingpro type="post-banner-468×60″]